This is a sponsored post written by me on behalf of Safeway, Inc.. All opinions are 100% mine.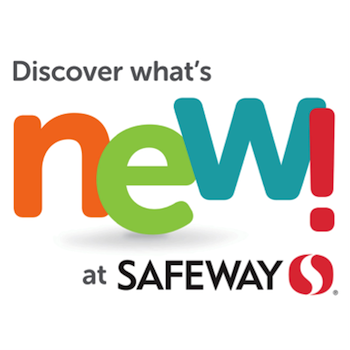 HI guys! Sometimes the most relaxing thing in the world to me is just to wander around a store all by myself -- not to purchase anything in particular. Just to look at stuff and buy anything that might catch my eye. Does anyone else do that?! If I have a list of things I need to buy, I'm a woman on a mission and I get in and out super fast. But when what I need is to unwind a little bit, I just wander. It doesn't even matter what store it is. A hardware or grocery store can be every bit as satisfying as a fancy department store. The other day I had a particularly stressful day at work and I was WIPED OUT. I knew I was headed home to a delightful evening of homework and housecleaning (my favorites -- NOT!) and I really didn't want to be a big, huge grump when I got there. When I saw Safeway up ahead I knew what I needed to do.
Thank goodness I stopped to wander the aisles and discover what's new because I found some amazing new products I am hooked on that I want to share with y'all. (B-T-dubs, you know you're a simple girl when buying new dishwasher tablets lifts you out of a funk. Meh -- I wouldn't have it any other way!) These are not groundbreaking new things I'm going to show you here, but they are a few really great solutions for my real-life stresses. (And probably some of yours, too!)
One of the things in life that bothers me to no end is a stinky house. I hate coming home to the smell of stale dog mingled with, like, a gym bag and last night's fajitas. And yet, while the family is gone all day, those are the things that stay at home lending their unpleasant aroma to everything we own. I need a product that can sweeten the smell up for me while I'm off "in the salt mines", so to speak.
These AirWick® Life Scents™ scented oil air fresheners are uh-mazing! The scent I like best is called Mom's Baking -- a delighful blend of pie crust, baked pear, and vanilla. I have always been drawn to baking-scented candles and fragrance products for my home and this one is practically perfect. I plug it in right next to the shoe basket near the front door so when I walk in, a delicious fruity pie smell wafts up to my nose instead of stinky running shoes. Such an improvement!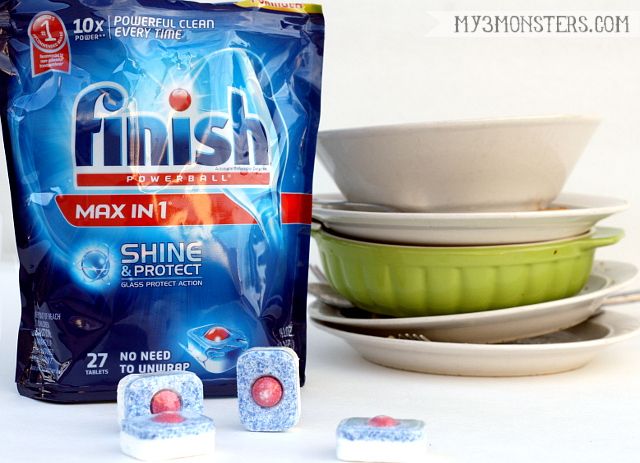 One of my least favorite chores is doing the dishes. I lucked out when I married a man who insisted that the person who cooked dinner should not have to clean it up as well. (By the way, he lucked out when our kids became teenagers and could start having their own dish nights.) I don't know why it seems like such a tedious chore. We have a dishwasher, after all! The thing that really kills me is when the dishes are still dirty after a cycle in the dishwasher and have to be hand-washed. It is a special brand of punishment that should be reserved for only the worst criminals. In my humble opinion, of course.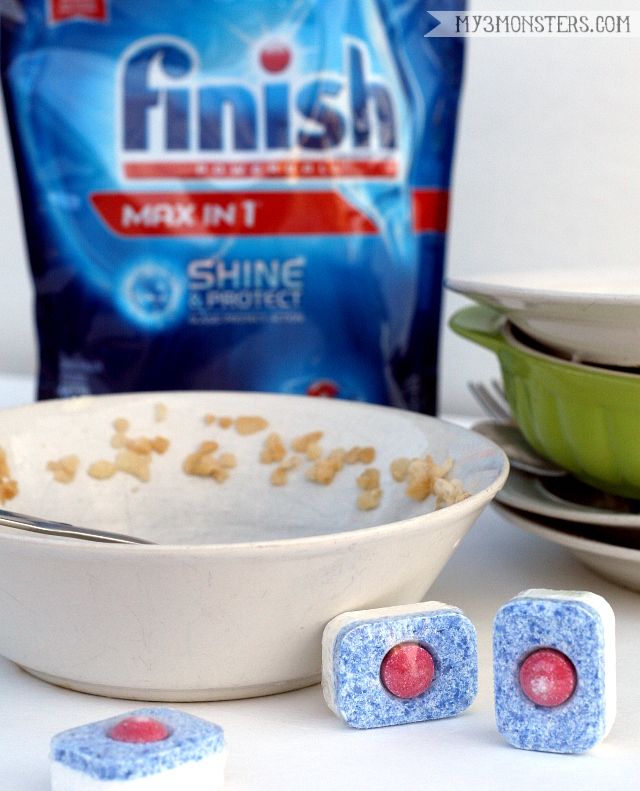 While this photo is staged (a very little bit), I actually took that Krispy Rice-y bowl right out of my sink this afternoon. Yes, that is my child's idea of rinsing his bowl. And we wonder why the dishes sometimes come out of the dishwasher still dirty . . . These Finish® Max in 1™ dishwasher tablets really kick some Krispy Rice booty, though. And rock-hard cheese microwaved onto a plate booty. And crusty hot cocoa sludge in the bottom of a mug booty. Whatever my family throws at 'em, they clean, which I adore.
I guess I must have a sensitive nose -- and/or a bad-scent phobia -- because I've got another pretty smelling item to share with y'all. I work with kids all day long at an elementary school. The one thing I learned on the job tout suite was that kids have no sense of personal space. It seems like they cannot be more than six inches away from my person when they have something to say to me. Because of the close proximity, I am very aware of how people smell -- especially after recess -- and, hence, very paranoid about how I smell. I love this Caress® Forever Love body wash. It smells incredible right off the bat, but then it continues to release fragrance on your skin for up to TWELVE HOURS!!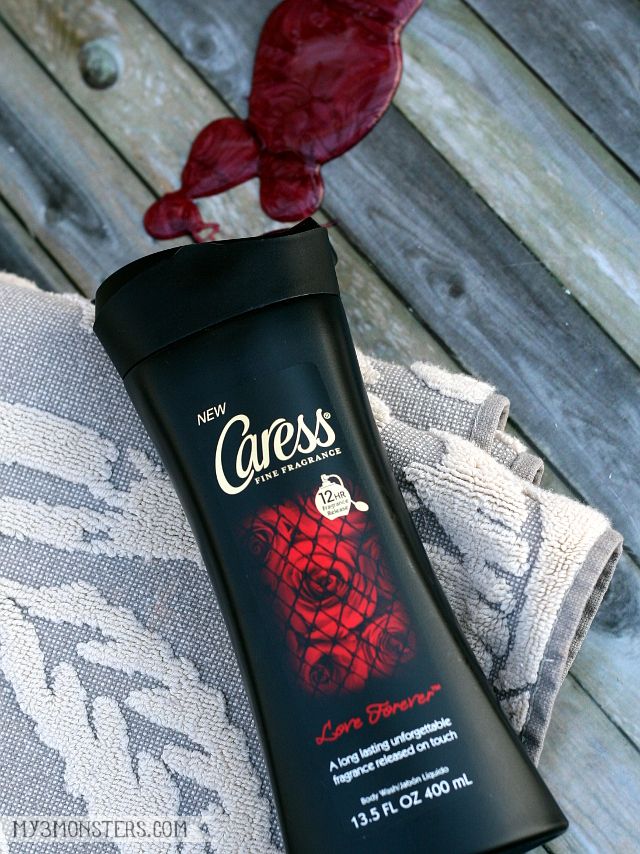 Microscopic beads of fragrance stay on your skin, releasing fresh scent whenever they are touched. Ladies and gentlemen, we live in an amazing day and age where technology even improves our bodywash for the common good! What a time to be alive. . . . But seriously, though. How cool is that?! I smell nice all day long. This stuff is incredible.
If you want to try my (relatively inexpensive) method of therapy, just head to your nearest Safeway store and look for the NEW tags to find the latest products at great values. Have you tried any of these products? Or do you have a favorite new product you have discovered? Leave a comment and spill it for the rest of us!
Have a great day, friends!
Amy