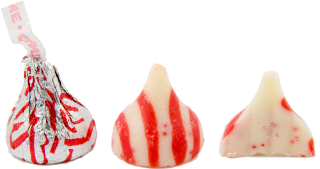 Oh, what rapture fills my bosom when I break into a bag of these babies this time of year. Hershey's Candy Cane Kisses:
White Chocolate. Mint. Crunchy Sprinkles. Delish!
The only thing better than eating them straight, which is
pretty
delightful, is to melt a bag of them and pour them over a bag of microwave popcorn. Pop Secret Homestyle, if you're wondering. Stir that concoction up gently and spread out on wax paper until the candy hardens up again. It elevates two simple, yet beloved, snacks to the level of the divine. We make batches upon batches of this stuff to share with teachers and friends for the holidays. And, for the record, I never met anybody who didn't give it rave reviews. Enjoy!