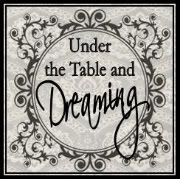 Today I am doing my first- ever guest post on the fabulous craft and decorating blog,
Under the Table and Dreaming
. I have lurked in the internet shadows stalking this really cool blog for some time now so you can imagine my surprise when Stephanie Lynn e-mailed me last night offering me this opportunity. I'm geeking out about it a little bit here, really. I shared my
Funky Wall Art idea
over there. You should go check it out to see her version of the project (stunning, of course) and while you're there check out Stephanie Lynn's classy and stylish decor ideas. A couple of my recent favorites are the Oversize Wooden Abacus (I so need one in my living room) and the Cereal Box Sunburst Mirror (you won't believe it). And her kids' playroom is to-die-for gorgeous. Seriously, go check her out. Thanks for this fun opportunity, Stephanie Lynn!